Looking Young and Natural
This is perhaps my biggest passion: creating youthful yet natural results.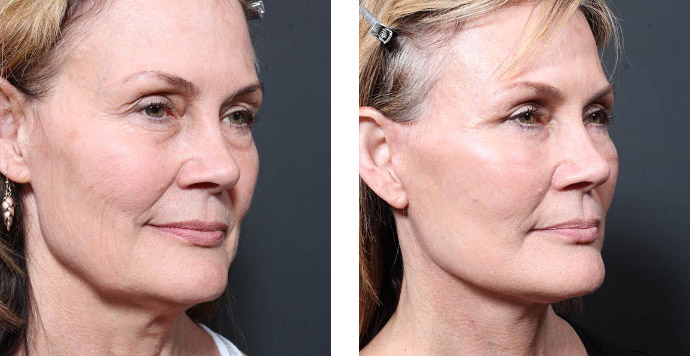 There is just something so elegant about a youthful face that also looks balanced and natural. The results of ever part of the face are in harmony with one another and also in harmony with the person and their personality. Tighter, fuller, higher is not always better. There is a balance to facial rejuvenation and it's this very delicate balance that is always at the center of what I am always pursuing.
To achieve naturally youthful and balanced results we must first look at how we age:
Skin: Our skin is our largest organ. It protects us constantly from the UV radiation from the sun as well as the elements. Because it is what everyone sees it is often the first to show signs of aging including: fine lines, sun spots, large pores, and loss of elasticity.
Subcutaneous fat: The tissue directly under our skin is referred to as the subcutaneous (under the skin) fat. As we age the layer of fat gets thinner. Although at first this may sound like a good thing it is not. You see, loss of volume such as a decrease in the subcutaneous fat layer is often a sign of aging. Youthful faces often have a good amount of fat a volume present.
Deeper tissue: The deeper tissues of the face including the muscles and ligaments are affected by gravity the same way that everything else is. With time these deeper tissues will droop down and created fullness in the areas that they have migrated into and hollowness in the areas where they used to occupy.
Natural facial rejuvenation therefore addresses these issues individually. Treatments for each of the above aging processes includes:
Laser Skin Resurfacing: Laser skin resurfacing thins out the thicker outer skin and reduces fine lines, aging pigmentation, and large pores.
Fat Transfer: Fat transfer is the process of removing fat from an area that has excess fat such as the abdomen or flank as an example and transferring this fat with injections into areas of the face that needs it including the lips, temple area, lower eyelids, and cheeks. Voluma, Juviderm, or other facial fillers can also be used to do so.
Face Lift: There are a variety of procedures designed to lift, reposition, and tighten the deeper tissue of the face and neck. A facelift and neck lift procedure are helpful to correct jowls, loose neck tissue sometimes referred to as a turkey neck, and the cheek area. By repositioning these to where they naturally used to be or optimally should be, the face shape and appearance is rejuvenated and jowls, turkey neck, or flat cheeks are corrected.
Facial rejuvenation should be all about naturally and harmoniously restoring volume, shape, and appearance. After facial rejuvenation people should be seen as looking refreshed and youthful not operated. I hope this information is helpful I learning more about facial aging and facial rejuvenation.
All the best,
Dr. Remus Repta